As a health and safety manager, we understand that your employees' safety and comfort are your priority. When it comes to selecting the right protective clothing for your workplace, sustainability may not be the first thing that comes to mind. But, did you know, there are a number of options out there which are not only safe and comfortable for your employees, but kind to the environment, too?

At TenCate Protective Fabrics, we have broken down the most commonly used sustainable fibres for workwear into four levels. These levels are determined by a series of different benchmarks (like the Higg Index, Textile Exchange, Made-by®) by which typical sources of sustainable fibres are measured. Generally speaking, the levels — from most to least sustainable — are:
Advanced

Progressive

Improved

Conventional
Let's have a look at the different sustainable fibres currently available on the market, and how they measure up.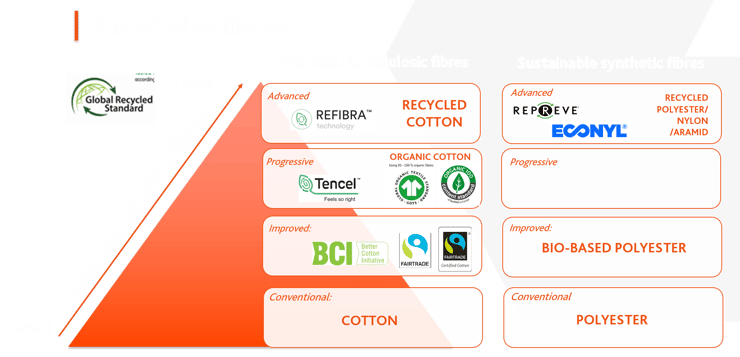 Sustainable Cellulosic Fibres
Advanced: Recycled Cotton or cellulosic
Recycled cotton or cellulosic fibres sit at the top of the list of sustainable fibres because they achieve optimum circularity. Recycled fibres are often blended with virgin (improved or progressive) fibres to make them suitable for re-use. A good example is the REFIBRA technology from Lenzing™, which upcycles cotton scraps from garment production and transforms them into TENCEL™ Lyocell fibres, minimising wastage and ultimately having less impact on the environment.


Progressive: Bio-Cotton or TENCEL™Lyocell
Organic bio-cotton is cultivated without the use of synthetic pesticides and chemical fertilisers, and requires less water consumption. The certification standards like the Global Organic Textile Standard (GOTS) provide third party assurance on organic product claims, including environmental and social responsibility in processing.

TENCEL™ Lyocell is one of the most popular sustainable options on the market. It is made from wood pulp, which has hardly any water scarcity impact compared to (bio)cotton, and does not require pesticides and/or chemical fertilisers. It is excellent for the environment and enhances wearer comfort too.


Improved: like BCI-cotton or FAIR trade cotton
Both non-profit organisations prioritise better cotton cultivation. Where FAIR trade mainly creates new opportunities for economically disadvantaged farmers in third-world countries, BCI cotton promotes better programs for global cotton production by taking social and environmental aspects into account.


Conventional: Cotton
Cotton is one of the most commonly used low-cost fibres on the market. However, its manufacture requires high levels of water, as well as pesticides that can be damaging to the environment.

Sustainable Synthetic Fibres
Advanced: Recycled


Well-known recycled fibres in today's workwear market include recycled polyester (such as Repreve®) and recycled nylon (such as Econyl®). Repreve® is made from post-consumer PET bottles. This means no further depletion of non-renewable resources, and less impact on the environment by using less energy and water and smaller greenhouse gas emissions. Recycled aramids are already regenerated and applied in settings other than workwear (for instance, non-wovens). However, as technology advances, we expect to see small-scale initiatives in the protective clothing industry.


Improved: Bio-Based
The advantage of bio-based materials is that they are developed from renewable and bio-based feedstocks like sugarcane and corn, feeding into a better supply chain. Many conventional fibres enter the market with a portion of bio-based content. We can already see trends in the polyester, nylon and aramid space.


Conventional: Virgin
Polyester and nylon, like cotton, are among the most common and popular options for fibres. However, their manufacture is energy intensive and consumes large amounts of fossil fuels. Conventional synthetic FR-fibres are modacrylics and aramids.
Taking steps towards sustainability: investment and return
In our experience, we have found that most companies just make the smallest step towards sustainability, for example, switching from conventional to improved solutions. However, if we really want to reduce our ecological footprint, we must go further. This will, of course, come at a premium price — however, it will result in a better return.

Our research has found that fibres in the progressive and advanced category have consistently performed well. For example, TENCEL™ Lyocell increases wearer comfort, and at the same time has high mechanical properties and excellent colour retention capabilities, even after repeated industrial laundering. Therefore, paying the premium price ultimately pays off in the longer term, as the product remains wearable and workable for longer, giving you the best return for your money.

As a health and safety manager, we encourage you to ask for Life Cycle Analysis (LCA) data reported in an EPD®: an environmental product declaration. This provides transparent and comparable information about the lifecycle environmental impact of a product, and can let you know how hard your protective garments are working for you.

It's worth noting that while sustainable innovations in workwear are common, it is not so common in the FR (fire-resistant) market. At TenCate Protective Fabrics, this is an area that we have been working hard to develop sustainable solutions for. We're delighted to share that we recently launched the first-ever sustainable FR-treated fabric - a significant step forward which we are very proud of.
Starting your transition to more sustainable workwear
It's clear that there are a number of sustainable fibres available on the market. Businesses all over the world, in various industries, are taking strides towards embedding sustainable protective workwear solutions into their workplaces. Curious about how to do the same in your workplace? Then why not have a read of our newly published Infrabel Case Study, which looks at how railway infrastructure manager Infrabel translated corporate sustainability strategy into sustainable workwear.