What is recycled polyester?
Recycled polyester fibres extracted from recycled plastic bottles (PET) are being increasingly used in fabric manufacturing. What would otherwise be considered waste is being transformed into something new and useful - a huge win since virgin polyester is not a particularly sustainable raw material.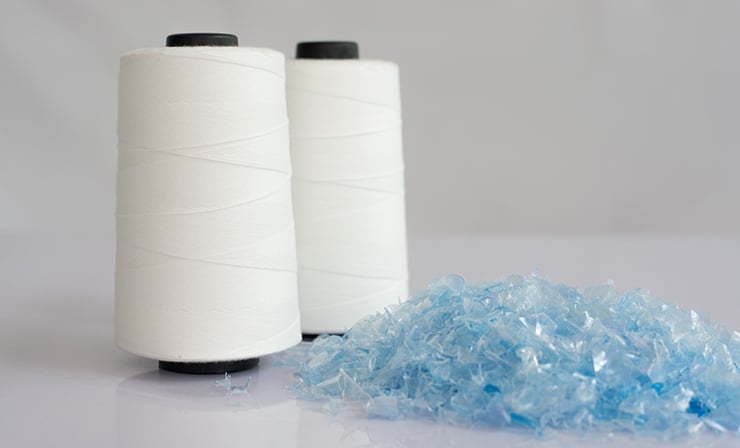 Recycled polyester is used in garments within a variety of industries. It is an exceptionally versatile material and an overall eco-friendly fibre. At TenCate Protective Fabrics, we utilise recycled polyester, in our Ecogreen portfolio that contains sustainable fabrics for any industry.

Recycled materials like recycled polyester are crucial content for eco-designs. They produce a smaller environmental footprint and contribute to the European aim(s) of being climate neutral in 2050. One of the objectives supported by the Dutch government is to include at least 30% recycled materials in newly produced textiles by 2030.
The advantages of recycled polyester - sustainable, durable & economical
When compared to virgin polyester, recycled polyester offers almost the same properties, albeit with significant environmental gains.

It is durable, lightweight, crease-resistant, colourfast, quick-drying, stain resistant, eco-friendly, and economical. This is the reason why polyester is often used in all textiles, spanning across home textiles, fashion, sports and outdoor clothing, to name just a few.
A crucial advantage of using recycled polyester over virgin polyester is the reduction of bottles in landfills. Plastic bottles are reused in the fibre production process of recycled polyester and this in turn has major benefits for reducing contamination of the earth as well as water and air pollution. This also means reduced use of petroleum which is used in the creation of virgin polyester.

Recycled polyester results in huge energy savings (of up to 45%) during the fibre production process compared to virgin polyester. Choosing recycled polyester over its virgin counterpart also means a 20% reduction in water consumption and 30% less CO2 emissions.


At TenCate Protective Fabrics, the recycled polyester fibre that we use is produced through a mechanical process. As a result, no chemicals are used in the production process — another big win for the environment.
Manufacturing process of recycled polyester
It is important to be aware that many garment manufacturers often claim to use 100% recycled polyester in their fabrics, when unfortunately this is not the case. It may indeed be true that their fabric comprises recycled polyester, but the overall percentage of recycled polyester that some companies use is very often limited. Moreover, recycled polyester is in fact mixed with virgin polyester in a blend. True 100% recycled polyester within garment fabrics is what we strive for to drastically improve sustainability and become more eco-friendly.

At TenCate Protective Fabrics, we use recycled polyester fibres that are made from 80% recycled plastic bottles (what is called post-consumer waste) and 20% waste from polyester production (dubbed 'post-industrial waste').
Ensure fabric is made from 100% recycled polyester
Even though a label may state that the fabric comprises recycled polyester, this does not mean that it is indeed 100% recycled polyester. A lower fabric price is often an indication that there is a virgin blend in there.

Another way to confirm that the fabric at hand is 100% recycled polyester is to check if it is certified. At TenCate Protective Fabrics, our 100% recycled polyester fibres are certified according to the GRS (Global Recycled Standard) and SCS (Scientific Certification System). GRS and SCS are neutral third parties ensuring claims for recycled products. In such certification reports, you can check the % of recycled polyester content, as well as the controlled feedstock, post-consumer or post-industrial waste. Both standards indicate that mechanical recycled polyester fibre is made from recycled materials.

Additionally, at TenCate Protective Fabrics we use REPREVE® recycled polyester fibres in our fabric. REPREVE®'s FibrePrint tracer can test any fabric to verify that it is indeed REPREVE® fibre and in the required quantities – that is because tracer technology is uniquely embedded into the very fibres. Therefore you can be certain that the fibres are produced with 100% recycled content.

The REPREVE® fibres we use are made from recycled plastic bottles alongside 20% industrial waste that is collected, washed, and chopped up into small bits called 'flake'. These flakes are then melted down and formed into usable chips. Finally, the chips are again melted and made into fibres for the textile industry.
Ensuring the sustainability of polyester in TenCate Protective Fabrics
Our sustainable protective and workwear fabrics, designed with recycled polyester content, are available with verified lifecycle data and an Environmental Product Declaration (EPD®) (according ISO 14025). EPD®s are becoming an industry standard and are also aligned to sustainability and the sustainable development goals of the United Nations since they prove the carbon footprints of products.
Would you like to consider recycled polyester fabric in your workwear?
If you would like to consider recycled polyester as a sustainable option in your workwear fabric, feel free to contact us for more information here.