At TenCate Protective Fabrics, we are proud to be part of a larger protective clothing value chain. As VP of Global Supply Chain, it's my job to maintain smooth operations throughout this value chain — from material sourcing to providing garment makers with the most durable and high quality fabrics possible. This is no small task during a global pandemic, as you can imagine. Over the 20 years I've spent in Supply Chain, I've learned that supply chain management is never a one-off. It thrives when a structured foundation is coupled with continuous improvement, something we're doing daily as we navigate COVID-19's influence on our operations. In this blog, I'll share the 7 lessons which have been most valuable in maintaining an effective and resilient supply chain in the midst of COVID-19.
#1: Manage expectations throughout the entire value chain
At TenCate Protective Fabrics, we start by creating customer awareness regarding long lead times. Delivering a fabric that meets the end user's requirements for comfort, safety and durability takes time, period. The average lead time for starting a customer order from scratch is four to six months, from collecting fibres (6 weeks), spinning yarn (4-6 weeks), weaving fabric (4 - 6 weeks) to dyeing, finishing and transporting the finished fabric to the garment manufacturer (4 - 6 weeks).

We also strongly believe that a garment that is "Made for Life" concerns the entire value chain. One way to maintain strong collaboration with all value chain partners is to engage them in rolling forecasts. In this way, we help them anticipate long before the actual order is placed, and make sure volumes can easily be up- or downscaled when necessary.
#2: Create a direct link between forecasts and sales, production and inventories
In order to achieve focus, alignment and integration across all functions at TenCate Protective Fabrics, we've implemented a sales and operations planning (S&OP) process. This is a business management process in which updated forecasts provide real-time input for sales, production, inventories and procurement. It helps us harmonize our customer demand with inventory levels and production capacity, and provides flexibility to pivot quickly. That agility is more valuable in our current situation than ever before, as it allows us to deal with the rapidly changing demand in the market.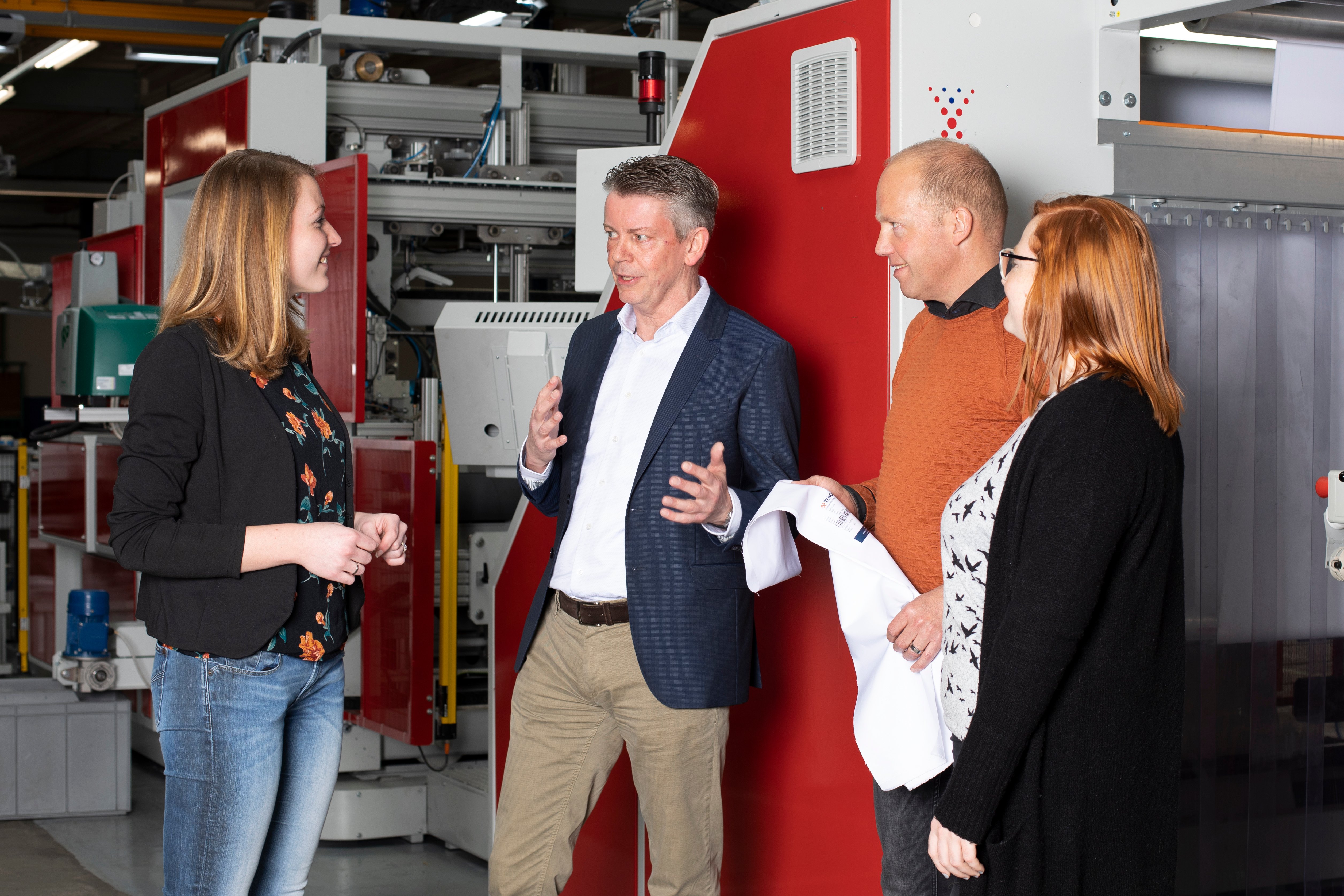 Integrating and aligning all functions (picture taken before COVID-19 outbreak)
#3: Put knowledge in the hands of many
"Empowering your team is the absolute key to smooth operations. But what happens when your most experienced personnel retire, or your trained young professionals decide to leave the company? It shouldn't mean that valuable knowledge vanishes."
To combat this phenomenon, we place a strong focus on training our personnel year-round. TenCate Protective Fabrics works with a professional training company to set up training programs based on operator experience. Operators are examined periodically and exams are constantly refreshed with current shop floor experience. By storing and transmitting knowledge centrally, we prevent it from only being passed on from one isolated individual to another. Most operators are also trained to be versatile, operating several different machines in our production processes. This allows us much more flexibility in planning, along with better management of capacity fluctuation and absence of personnel. Finally, the instructions we provide to each production line are always up to date.
Putting information at people's fingertips at all times is a key aspect of our company culture at TenCate Protective Fabrics. By investing in training, sharing knowledge, and stimulating personal development of our personnel, they're able to unleash their entrepreneurship. Which is why even during the COVID-19 crisis, they've shown incredible stamina and energy to perform their jobs under new circumstances.
#4: Give operators a voice
Improvement programs can often become a top-down show run by engineers, team leads, production/plant managers, and so on. Maintaining a smooth supply chain only works, however, if you enable your colleagues as well as your partners to take responsibility. That's why at TenCate Protective Fabrics, we engage our operators in improvement programs, too. By creating relevant work-streams and inviting operators to contribute, we collect and implement great ideas while making all personnel feel truly valued.
#5: Invest in overall equipment effectiveness (OEE) software
To realise continuous improvement throughout our supply chain, we use Overall Equipment Effectiveness (OEE) software on all our production lines. OEE software gives us proper insight into important loss categories such as downtime, malfunctions and cleaning procedures, enabling us to implement continuous improvement cycles. It is also a way to measure the effectiveness of our preventative maintenance programs. Always be on the lookout for where you can invest in robust machinery, and replace production equipment when necessary in order to reduce malfunctions and downtime.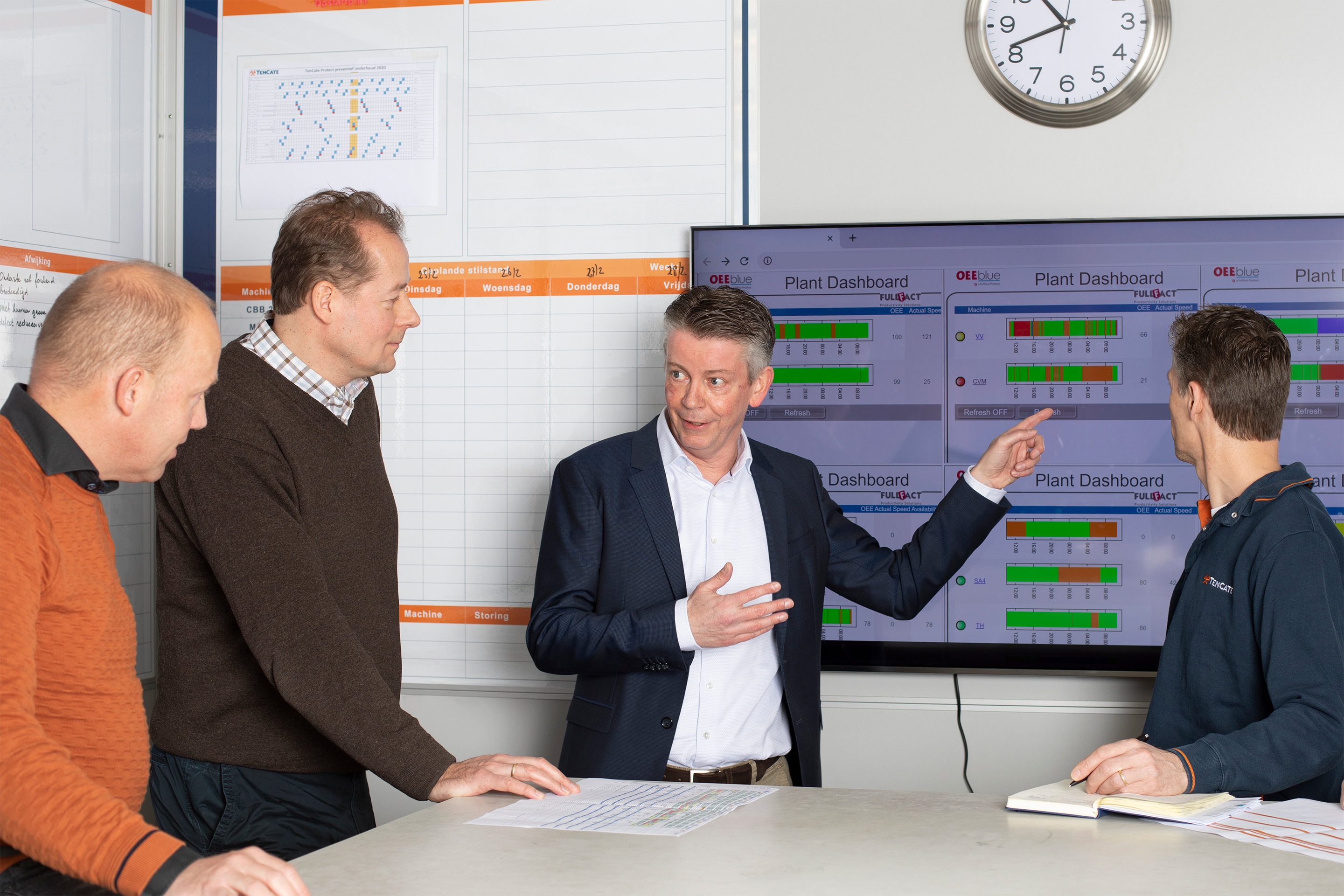 Optimizing processes using OEE software (picture taken before COVID-19 outbreak)
#6: Prioritise on a daily, weekly, monthly basis
Apart from OEE software, continuous improvement is also a key focus area in our daily, weekly and monthly reports and meetings. During the daily stand-up meeting, we discuss fixed topics such as safety, output, lead time and quality to quickly steer teams in the right direction. We conduct a similar meeting on a weekly basis, with team members overlapping. During our monthly meetings, we focus on overall progress on our continuous improvement goals. If challenges or opportunities arise, a separate project team is set up to tackle the issue. Projects can vary between updating cleaning instructions, resolve quality issues or reduce machine changeover time. The benefit of this system is that decision-making occurs at the right level and allows teams to constantly prioritise.
Before COVID-19, these physical meetings were always held on the shopfloor. In the past months, we've shifted them to online, which has presented new challenges. It's simply more practical, for instance, to stand together by the machine controls while having a brainstorming session about start-up procedures in practice. That's why we work with photos of the situations up for discussion these days, in order to still be able to address them concretely while meeting remotely. It's not as effective as it used to be but the best we can do in the current situation.
#7: Keep your product portfolio up to date
As we navigate COVID-19 together, our innovation team is working full speed to adapt our products to market demand, in order to help our end users with new solutions as quickly as possible. Especially in a dynamic company like TenCate Protective Fabrics where new products are being developed and introduced constantly, active product portfolio management is essential to maintaining a smooth and effective supply chain. It represents a struggle for many companies, but phasing out old products is absolutely vital. Not doing so will eventually clog up the whole supply chain, leading to higher costs and reduced service levels to customers.
Supply chain: the ultimate key to customer success
"My long career within Supply Chain Management has taught me that in order to truly put your customers first, your supply chain cannot be left behind."
Building an effective and resilient supply chain during COVID-19 may seem like a challenge, but invest the time and money to properly lay the groundwork in your personnel, processes and robust machinery, and you won't be disappointed. Don't forget about continuous improvement to every link in your supply chain, either! It may seem like a no-brainer, but I believe that it's key to true customer intimacy, which in turn is the key to customer success.