The Dutch "Star of Life", the iconic symbol for emergency medical services will soon be accompanied by the colours turquoise, grey and "a touch of red". In the upcoming months, 5500 professionals from 22 regions in the Netherlands will lay hands on their brand new ambulance uniforms. The new workwear radiates flexibility, care and accessibility, as well as power, speed and authority. The story behind the new garment reveals an impressive collaboration between end user, distributor, designer, manufacturer and fabric supplier. Although each partner in the workwear value chain fulfilled a unique role, the success of the project can be found in their shared set of beliefs: to never compromise on durability, safety and wearing comfort.
From tender to sustainable garment
The story begins with the issuing of a tender for new workwear by Ambulancezorg Nederland (AZN, the national sector organization for ambulance care in The Netherlands) and the Instituut Fysieke Veiligheid (IFV, the national support organization for Dutch safety regions). Ruud Scheerder and Jan Langelaar from the IFV were responsible for the tender process and together, they set the requirements for the new ambulance uniforms. Apart from tear resistance, colour, tensile strength and washing of the fabric, a top priority in this project was durability and sustainability.

Scheerder:
"We were looking for ways to incorporate biological and recycled fabrics into the new uniforms. On top of that, we were determined to gain insight into the environmental impact of the workwear, from design stage all the way to end-of-life of the garment. CO2 emission, water use and production from fossil fuel were thoroughly assessed with a life-cycle assessment tool."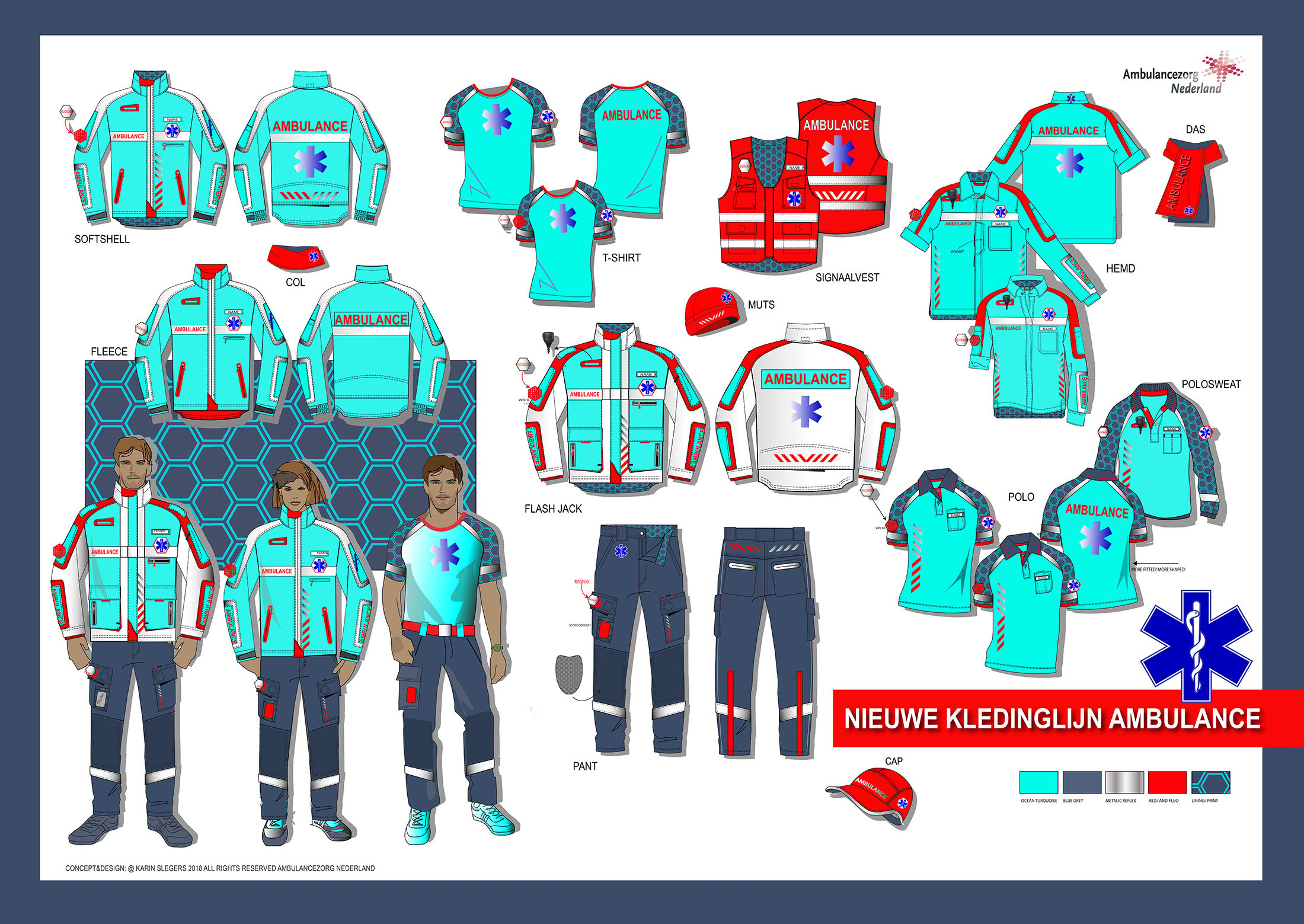 Workwear moodboard of designer ©Karin Slegers.
Workwear distributor Wiltec Group recognized the uniqueness of this project early on. Dick Langenhuijsen, Business Unit Manager of Workwear and Hans Berkel, Product Manager at Wiltec share their view on the matter.
Langenhuijsen:
"At Wiltec Group, we actively look for projects where the end user prefers quality and innovativity over functionality. There is a growing awareness amongst end users that they are able to influence the level of attention that is paid to sustainability and circularity in the production of their new garment.

We are very happy with this development. It enables us to take on a new role as intermediair and project director for all partners in the workwear value chain. This collaboration is necessary, because minimizing our carbon footprint is a joint responsibility. We can only create impact if all partners are fully engaged."
Berkel adds to the story:
"To achieve this goal, our aim was to connect partners who take themselves seriously - but, more importantly - that are taken seriously by their customers. We looked for fabric suppliers, garment manufacturers and designers that could take on the job."
One of the first partners Wiltec Group connected with was workwear expert and garment manufacturer HAVEP. Anna van Puijenbroek, CEO of HAVEP shares the organization's unique view on durability.

Van Puijenbroek:
"Durability stretches far beyond the product itself - it also focuses on the people creating the product! A high-quality product is durable if it doesn't tear or wear down before its intended lifetime and can endure multiple washings. But durability is also determined by fair wages for the people that create the high-quality product.

Both aspects are equally important to TenCate Protective Fabrics. That is why together, we have searched for ways to fully incorporate durability in the production process of the ambulance uniforms."
As a result, Tecawork® Ecogreen became the choice of fabric for the work trousers and blouses. TenCate Protective Fabrics is the first manufacturer of fabrics for workwear to develop a series of environmentally friendly products based 100% on green fibres. Tecawork® Ecogreen fabrics is manufactured entirely from 100% TENCEL™ Lyocell from sustainable sourced wood and 100% mechanically recycled polyester from PET bottles.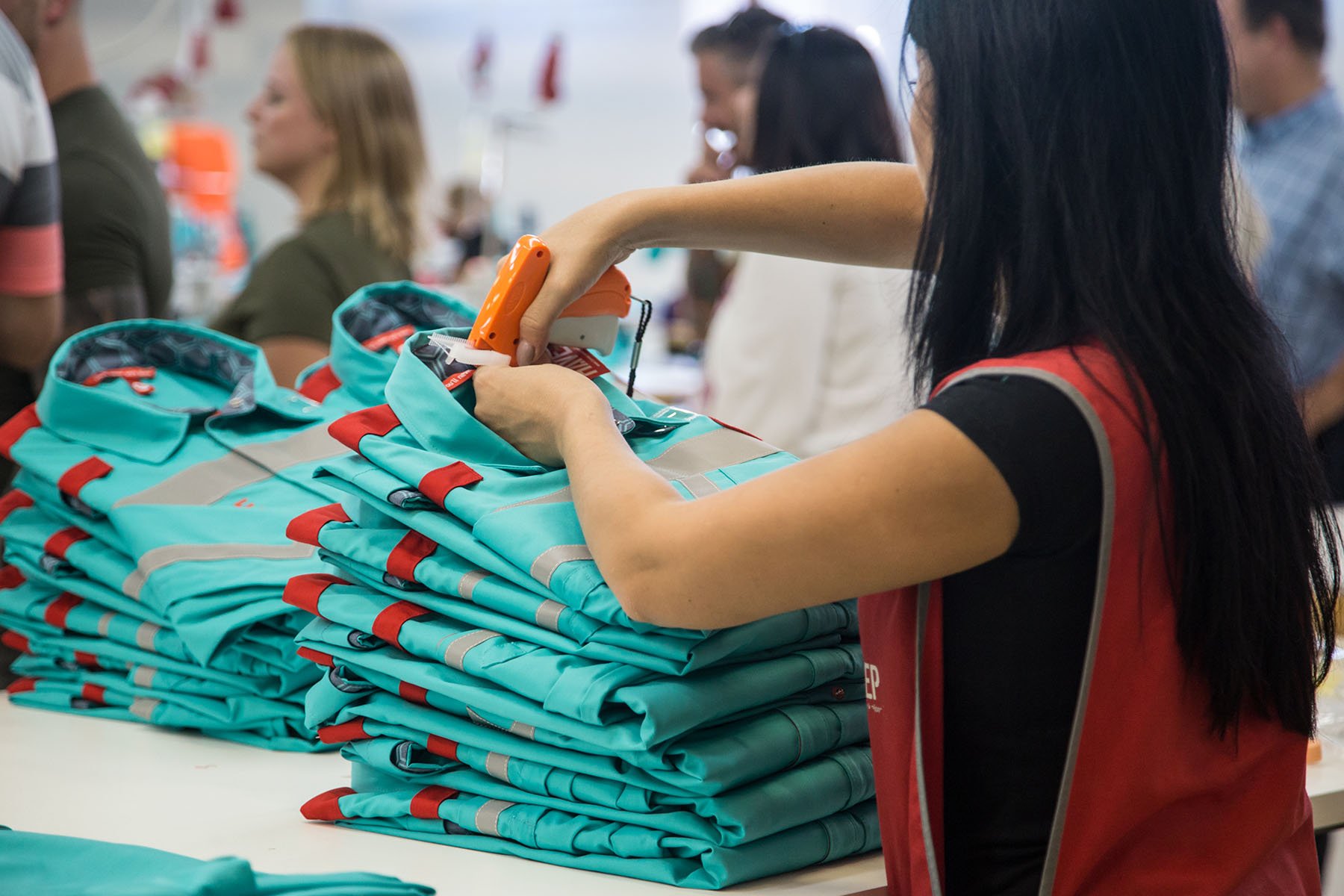 Production of ambulance clothing ©HAVEP studio Skopje.
Wearing comfort and excellent fit
Apart from durability, comfortable workwear is extremely important in challenging work environments. Designer of the new uniform Karin Slegers was able to seamlessly pick up her role from there.

Slegers:
"I am very happy that important topics for AZN - like sustainability and durability - were taken very seriously by all partners in the value chain. This way I could fully focus on designing a garment that meets the wants and needs of the AZN ambulance personnel.

I completely submerged myself into their profession, by joining practice sessions and accompanying professionals on their routes. I attended many workgroup sessions where all 25 regions had a true voice in the matter. It enabled me to create a design that satisfies the wearer regarding look, feel and wearing comfort."
HAVEP has many years of experience when it comes to creating an excellent fit in their garments. This is something that has not gone unnoticed by the ambulance personnel. Henk Dronkert, a nurse with many years of ambulance experience was one of the initiators of the project.

Dronkert:
"I cannot emphasize enough how incredibly happy I am with our new workwear. It is a major improvement on the old workwear in many ways. In fact, it does not feel like workwear at all. It has a modern fit and it is comfortable to wear. The fact that we have to bend and sit on our knees a lot has been taken into consideration in multiple ways.

They have incorporated unique details that match our profession into this new garment. A large percentage of our work takes place in home environments, but they have taken the time to design a high visibility vest as well, in case we work near traffic.

The Tecawork® Ecogreen fabrics that are incorporated into the work trousers and blouses is incredibly soft, is light to wear, it has a high breathability and dries quickly, without it feeling cold on the skin.

On top of that, the project team was invited at the manufacturing facility of HAVEP in Macedonia. This made us confident that the manufacturing process and the people creating the garment are in good hands as well."
Jan de Waard, representative of facility managers within the project, is also happy with the new workwear and the improvement that comes with it. According to him, the final product is really something to be proud of, thanks to the testing process. To create a state-of-the-art final product, a wear trial and a washing test were carried out.
De Waard:
"The wear trial was executed to finetune the design even further. Later, a washing test made sure that the final product remains perfectly washable during the whole lifecycle.

Based on these tests, the final adaptations were made in order to create a final product to be proud of. In particular, the responsible way in which the project was carried out was very positive. Wherever possible sustainability and the ecological aspect were taken into account.

The result is a distinctive, good-looking costume, which is also responsible in terms of sustainability and the human aspect. The new model is striking: people will know when an ambulance worker arrives on the scene!"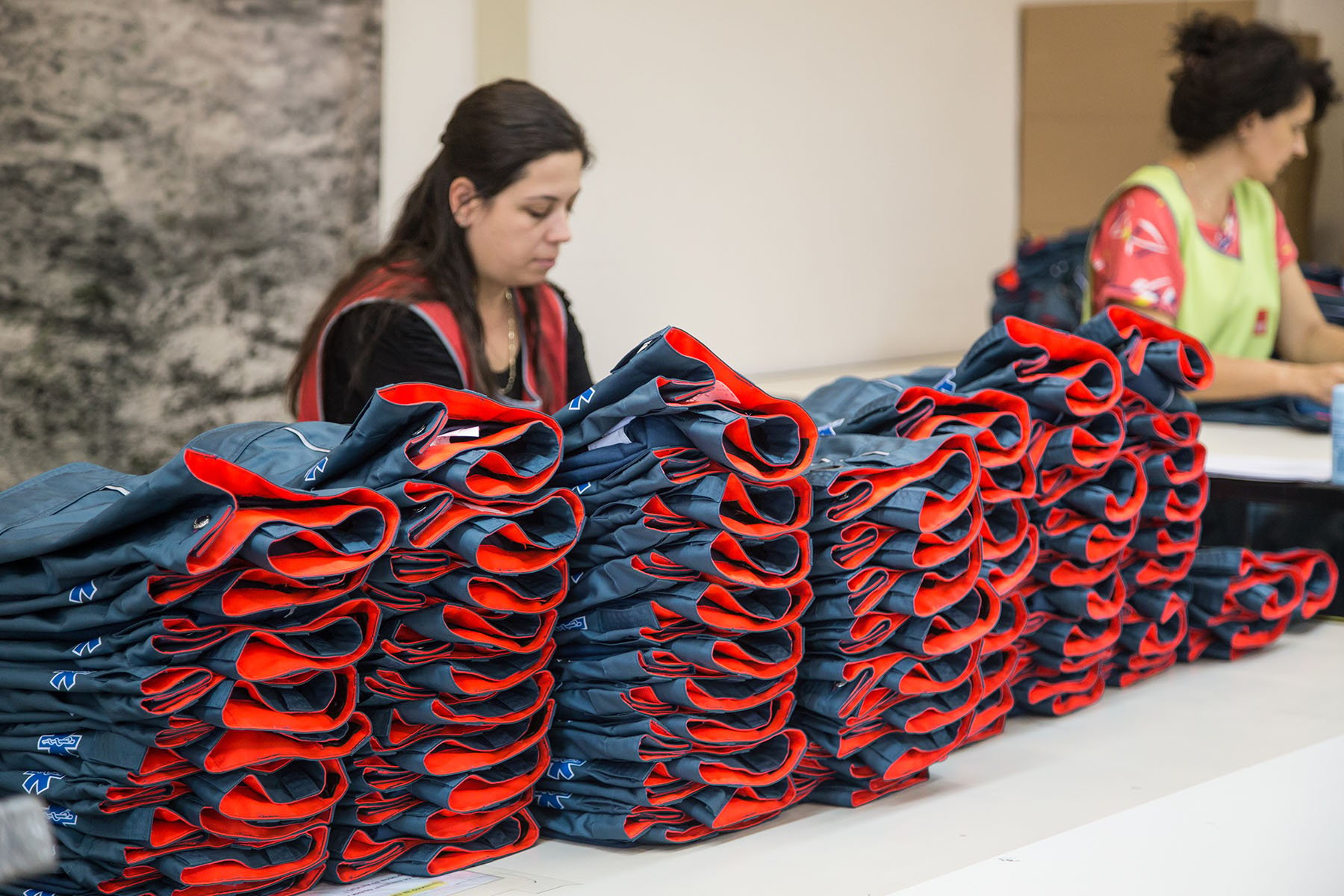 Production of ambulance clothing ©HAVEP studio Skopje.

Taking care of people and of the environment
All 22 regions have made tailored agreements with Wiltec Group about the placement of orders and distribution of garments. Wiltec Group and HAVEP make sure that each region is serviced 24/7 in order for the Regional Ambulance Services to adapt to the new workwear in the best way possible, and to promise on time delivery.
In the upcoming months, 5500 professionals across the Netherlands will be provided with new workwear. Slowly, the Dutch population will be taken care of by professionals in the colours turquoise, grey and "a touch of red". A unique story in many ways, proving how the collaboration between end user and the workwear value chain can have an enormous positive impact on many people - and on the environment.
Header image: © Denyza Tulum