As the market leader for sustainable protective fabric solutions, we feel responsible to help our entire industry reduce its ecological footprint. To do this, we've implemented sustainable process innovations while also focusing on sustainable product solutions. With these innovations, we're reducing the impact of our internal processes and the total impact of our products throughout the entire supply chain.

A holistic approach with Design for the Environment (DfE)
Our product and process innovations are guided by Design for the Environment. Design for the Environment (DfE) is a systematic approach that checks performance against environmental, health & safety objectives and social aspects over the full life cycle. DfE stems from the idea that the environmental impact of materials and processes can be significantly reduced through an optimised design. In this approach, we focus on three phases: the design phase, the user phase and the end-of-life phase.
In each phase, we specifically examine the environmental impact a product has and where improvements can be made.
Phase 1: the design
The first phase, the design phase, focuses on the materials included in the product and the production process. We're tackling design in a more sustainable way by replacing virgin (fossil-based) fibres with recycled fibres, and using natural fibres offering the lowest possible energy and water footprint possible as an alternative to virgin cotton.


Phase 2: the user
The second phase of DfE is the user phase. In the user phase we focus on the enhanced washability and reduced maintenance of garments that are made from our fabrics. We clarify and incorporate the purpose of the product in design decisions ("design for purpose"). Products with a long lifetime require a different focus than products with a short lifetime. It is important to optimise the durability for frequent wearing and laundering, because this is how we reduce waste production and unnecessary product replacements.


Phase 3: the end-of-life
Lastly, the end-of-life phase is evaluated. In this phase we focus on the development of an easily-recyclable and disassembled product. This is the most difficult phase. It will take some time before we've innovated a solution for the end-of-life recycling of garments back into fibres that can be used again for new protective yarns and fabrics.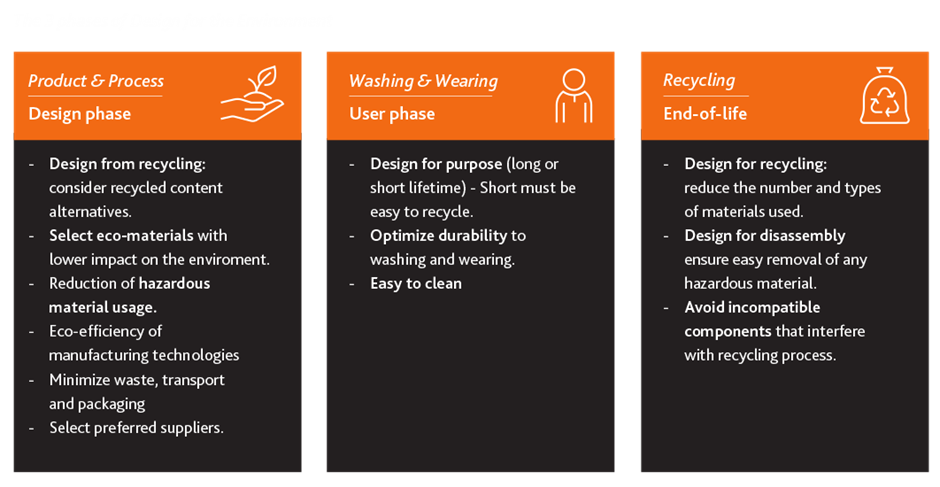 Design for the Environment in practice
In our Tecawork® Ecogreen portfolio, for example, we have replaced cotton and virgin polyester with natural TENCEL™ Lyocell fibres and recycled polyester. TENCEL™ Lyocell is produced in a closed-loop process where more than 99% of the solvent is recovered and reused. All these fibres are harvested from natural forests and sustainably-sourced plantations without the use of chemical pesticides. When it comes to comfort, TENCEL™ Lyocell absorbs up to 50% more moisture and also dissipates it more quickly, which makes the material cooler, drier and softer on the skin. Made from PET bottles, the recycled polyester in our Ecogreen fabric can withstand heavy usage and industrial laundering. Ecogreen fabrics reduce energy consumption by 45%, water consumption by nearly 20% and GHG emissions by over 30% in comparison to virgin polyester.
In collaboration with Dutch garment manufacturer Fristads, we helped develop the Fusion Green collection, which is made with Tecawork® Ecogreen and includes one of the world's first EPD®'s for workwear. It sets a standard across the entire textile industry, making it possible to measure the total environmental impact of a garment. The EPD® not only demonstrates that Fristads' new collection is truly sustainable; it proves that the entire process from fabric to final garment was
executed with the environment in mind.
Future outlook
We recently launched the worlds' first FR-treated fabric with 50% green materials; Tecapro® Ecogreen and Tecasafe® Ecogreen was the first ever inherent FR multi-norm fabric to incorporate sustainable fibres. All fabrics are EPD® registered. In the years following, we envision introducing our successful Ecogreen innovation strategy into other product groups as well. In addition, we will continue to further optimise our product innovation processes to grow our sustainability even further.
Our value for the environment
At TenCate Protective Fabrics, sustainability and transparency have become an integral part of our organisation. We strive not only to work in a way that reduces our impact on the environment, but to be transparent with stakeholders around how well we are doing when it comes to sustainability, and where we aim to improve.