Think of sustainability as a snowball, gaining impact and momentum as it moves through the value chain from unprocessed materials to finished garments. Each partner in the value chain has their own unique role, but a shared set of beliefs is essential to creating a successful sustainable product together. Workwear manufacturer Fristads has built its new Fusion Green Collection on this foundation of collaboration. To prove that the whole value chain contributed to their sustainable collection, a historic EPD® (Environmental Product Declaration) was created. But what makes this EPD® so unique? And what was the role of both players in this process? We invited a number of experts from both Fristads and TenCate Protective Fabrics to share their perspectives on this unique collection.
Supply chain: the ultimate key to customer success
A few years ago, Fristads decided to challenge themselves and take sustainability one step further. In keeping with their mission, they set a goal to create a completely sustainable range of high-quality workwear. Not only did this goal echo TenCate Protective Fabrics' commitment to sustainability, it was also a perfect fit for TenCate Protective Fabrics' Tecawork® Ecogreen fabrics, which are created from 100% green fibres.
Fristads had been looking for an objective sustainability index for a long time. Karel Luttikholt, Sales Director at Fristads in the Benelux: "Fristads has been making workwear more sustainable for years. Sustainability is twofold for us: First and foremost, it is about creating high quality workwear. Secondly, we aim to work with the best materials with the lowest environmental impact possible."
The search for a better sustainability index
As Fristads developed its first sustainable protective workwear collection, it became clear that they needed a concrete way to measure the environmental impact of their garments. You can say that your collection is sustainable, but is it really? To answer this question, Fristads worked with RISE, a Swedish research institute and innovation partner, driving sustainable development internationally. The fabrics for Fristads collection needed to meet certain sustainability requirements, which coincided with TenCate Protective Fabrics' search for an independent sustainability index for Tecawork® Ecogreen fabrics.
As a result of intensive collaboration between Fristads, RISE, and TenCate Protective Fabrics Protective Fabrics, one of the world's first Environmental Product Declaration (EPD®) for workwear was developed. An EPD® is a measurement of the environmental effect accumulated by a product through its life cycle. This first-ever clothing EPD® sets a new standard across the entire textile industry, making it possible to measure the total environmental impact of a garment.
Mathias Möller, End User Expert at TenCate Protective Fabrics, explains what an EPD® means for companies within the textile industry: "An independent EPD® gives companies like Fristads and TenCate Protective Fabrics more insight into the questions 'What do I really have here? And how do I compare it to other products on the market?' It also gives the end user proof that what he's buying really is as sustainable as promised. The EPD® is even supported by an ISO certification (EN ISO 14025) focused on the environment."
Quantifying "sustainable"
Thanks to the EPD®, not to mention partners within the value chain, Fristads' Fusion Green Collection was born. The EPD® not only demonstrates that Fristads' new collection is truly sustainable; it proves that the entire process from fabric to final garment was executed with the environment in mind.

Karel explains: "The demonstrable evidence and independent measurement make our aim for sustainability more than just a good story; it makes sustainability quantifiable. For example, it shows that the impact of our green line is up to five times less damaging to the environment than other solutions. Because our clothing doesn't need to be replaced often, its impact on the environment is very low. And it shows that sustainability, comfort and high quality go hand in hand."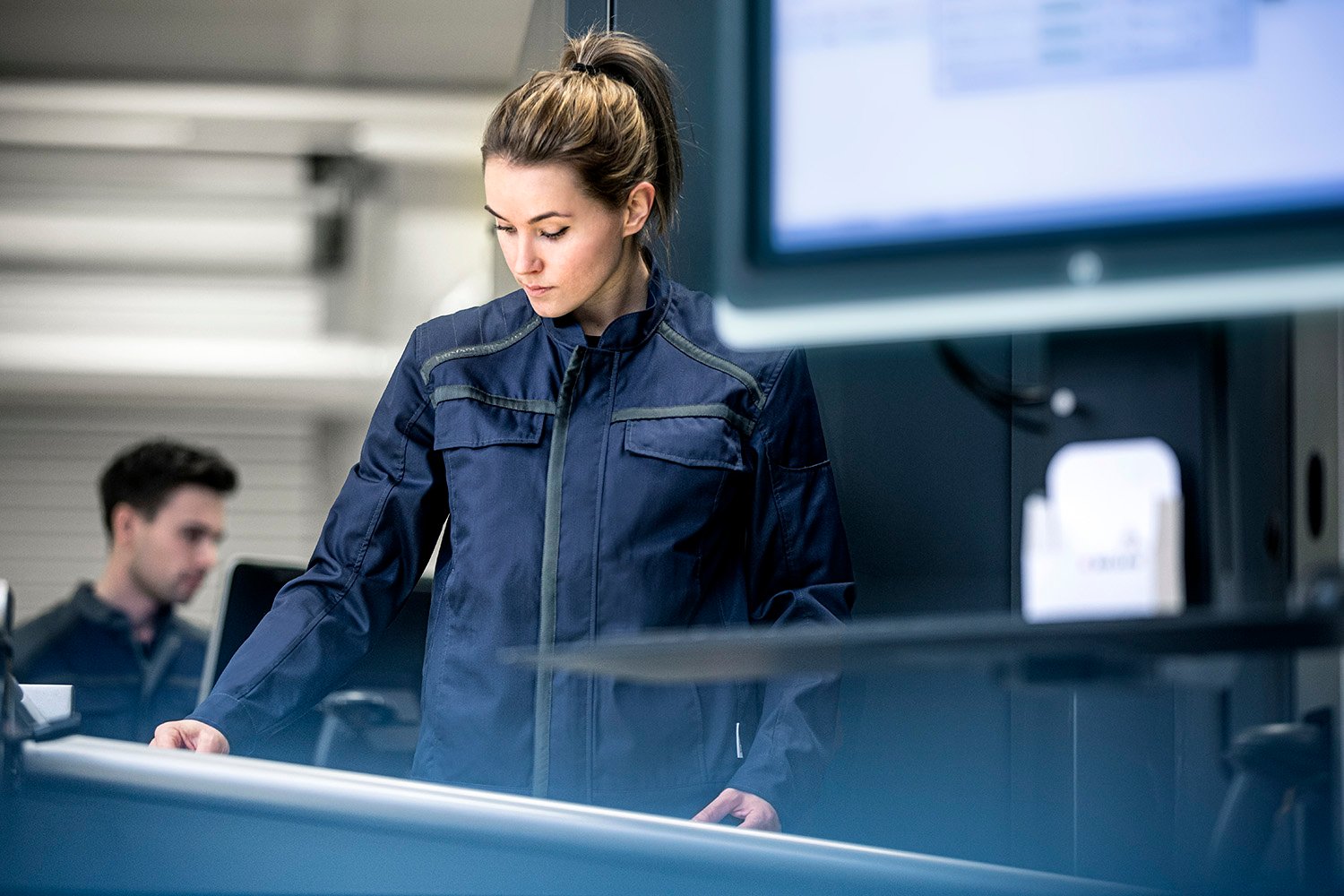 The new Fristads Fusion Green Collection, view the full collection here.
Moving forward, Fristads is committed to developing more green products and making its production processes more sustainable. Sustainability is more than just the impact on the environment in the production process, however. From raw materials to industrial laundries to end users, everyone plays a role.
Karel explains why strong and innovative partnerships throughout the whole value chain are crucial in moving towards sustainability: "Sustainability is a process in which you constantly make your impact on the environment a bit smaller. We influence this both directly and indirectly by buying sustainable materials like TenCate Protective Fabrics's fabrics and choosing our partners in the value chain carefully. We're in this together."
Mathias confirms: "This partnership was not only about fabric choice. It was about the development of sustainability in the market and how to measure it. Fristads had been looking for an objective sustainability index for a long time, just like TenCate Protective Fabrics."
A baseline for ongoing development: "if you can't measure it, you can't improve it"
Trust and transparency are of utmost importance in collaborative projects like the Fusion Green Collection. Thanks to the EPD®, Fristads and TenCate Protective Fabrics can now offer this transparency collectively to their customers.
Martine Kok, Product Manager Workwear at TenCate Protective Fabrics, underlines that the EPD® does more than that: "Thanks to the EPD®, we can prove that something is as green as we claim it is, but the EPD® is more than just proof of a products' sustainability. It also offers a baseline for further sustainability in the future."
Both Fristads and TenCate Protective Fabrics have anchored sustainability in the development of their products. Functionality and protection are foundational to this process, but sustainability has also become an essential factor thanks to the EPD®, which offers concrete figures to build on.
Martine explains how the EPD® allows you to easily calculate whether environmental impact is reduced by certain decisions: "We look at this ongoing development from a fabric perspective, while Fristads continuously thinks about ways to improve the sustainability of the clothing. Fristads can investigate whether the end product can easily be recycled, or whether the packaging can contain less plastic."

Details of the new Fristads Fusion Green Collection
Looking forward: Strategic sustainability
As Fristads looks to the future, sustainability is high on its agenda. The same can be said for TenCate Protective Fabrics, where developing long-lasting sustainable solutions is part of our mission.
Lene Jul, Product Management Director at Fristads, works with Fristads' portfolio from a strategic point of view. She elaborates on the new Fusion Green Collection, the EPD®, and collaboration with TenCate Protective Fabrics: "We can proudly say we have taken sustainability a step further with the new Fusion Green Collection and its EPD®, an extremely strong tool that measures the actual environmental impact of a product. Our mission is to offer a complete range of high-quality workwear, with functional and contemporary design. It's why we are continually launching new products with an EPD®. A process like this requires suppliers and partners you can cooperate well with. We knew TenCate Protective Fabrics could answer this demand. A good dialogue is absolutely key when it comes to projects like this."
Collaboration in the value chain that truly makes a difference
It's safe to say this is a firm foundation for further cooperation and the development of more sustainable workwear. This story is a great example of how the value chain has worked together to ensure workwear that is 'Made for Life'.
Learn from a complete case study
How does close collaboration within the value chain secures workwear that is safe, durable, comfortable and in line with your corporate brand? Learn how ENGIE created protective workwear that is 'Made for Life' by working closely together with all partners: download the case study.