The summer has arrived in Europe. As a result many factories are heating up inside, especially those where machinery and production processes already produce a lot of heat themselves. Still the risks workers face at the workfloor have not changed and hence also the need to wear your protective clothing correctly remains the same. So what can you do to make your protective clothing more comfortable during summertime?
Safety first; keep your protective clothing on!
Let's start with safety first. It doesn't matter how hot it gets in your work environment, you still need to wear your protective clothing properly. Unfortunately, in warm circumstances it happens too often that workers take their jacket off and continue working in their t-shirt, which is usually made of plain cotton offering no protection at all. Although human mistakes are often the cause for accidents, not wearing protective clothing correctly can be even worse as the risk of getting an injury in case of an incident becomes almost a certainty.
Manage the environment
In many companies there are procedures in place that deal with working while temperatures are increasing. This can vary from changing working hours into starting earlier and ending earlier, improving ventilation and cooling of the work environment, implementation of more breaks and ensure proper hydration, just to name a few. This is often linked to a company policy and should certainly be part of a safety manager's tasks to develop. Because it's also their job to conduct risk assessments, and working in warm/hot environments is kind of a risk.
Select more comfortable protective clothing
Whatever measures you might put in place, in the end it's often inevitable that working environments get warm, sometimes also caused just by the machines that produce heat. Therefore it's always best to select garments that stay comfortable. There are basically two ways to improve the comfort of a garment worn in warm environments;
Choose a lighter fabric
The lighter the fabric, the more comfortable it is to wear. Lighter fabrics often have better air permeability, heat and moisture can easier escape/evaporate and of course they also feel lighter. Luckily many protective fabrics nowadays have different choices of weight while still providing the proper protection against heat, flames and arc flashes for instance. Compared to some years ago, we can say a weight saving of about 10%-20% has been achieved without compromising on protection. So check with your supplier or one of our experts which weight your fabric has today and whether there are possibilities to achieve improvements here.


Choose fibres that have better moisture management properties
Next to lighter fabrics, you can also select different compositions of fibres. Traditionally cotton is seen as a comfortable fibre. However, you will never wear a cotton short when doing sports. Reason for that is that cotton absorbs sweat very well but it's bad in letting it go again and evaporate. Hence cotton shirts turn wet and can stay wet for a long time. An excellent alternative to cotton for instance is lyocell. This fibre is made from wood pulp so also natural, with a much lower ecological footprint by the way, and has both absorption and wicking properties making it an ideal fibre for great moisture management. As such, choosing the right blend of fibres enables you to achieve the proper balance between aspects like moisture management, colour fastness, tear and tensile strength, abrasion resistance and FR-properties. You can check with your supplier or with one of our experts which composition your garment has today and whether there are alternatives that could bring improvements when working in hot environments.
Climate specific protective workwear is heating up in popularity
Luckily, there are possibilities to make it more comfortable wearing protective clothing in warm environments. It's of course depending on your own situation which of the options mentioned are applicable. Our experts are more than happy to help you assess what the possibilities are for your specific situation. In the meantime you can already read more about why climate-specific protective workwear is heating up in popularity in this blog.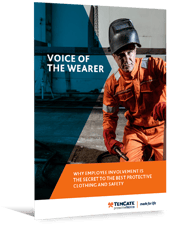 Inspiring safer behaviour on the workfloor
Sed ut persaYou know that there's a link between safety compliance and employee engagement. Download this e-book and learn what you can do to engage your employees and inspire safer workplace behaviour.piciatis unde omnis iste natus error sit voluptatem accusantium doloremque laudantium, totam rem aperiam.