We're excited to win the International Platinum AVA Digital Awards for the virtual launch experience that we developed for Tecapro® Ecogreen: the world's first-ever, most comfortable FR-treated fabric with 50% green materials. Winning this award means that our virtual launch strategy has been internationally recognised for excellence in creative digital communications. So what makes our virtual launches so special?
The challenge: a complex B2B environment
As a manufacturer of protective fabrics, a semi-finished good that's not often known by the user, we aren't in the easiest position to launch a new product or get it adopted quickly by the market. And where traditionally trade shows were the place for new product launches, Covid made that platform impossible. We knew we needed to do things differently.
While developing this huge innovation for the FR-fabrics market – Tecapro® Ecogreen – we wanted to shorten our time to market significantly. And, as part of our communications strategy, we wanted to connect and speak to end users directly. We already knew that our online communications strategy with relevant content aimed to support end users is a great way for us to reach this target audience. So we tasked ourselves with developing a content-rich virtual launch platform where end users can experience this new fabric and learn not only from us, but mainly from other experts in our industry, how this fabric could benefit them.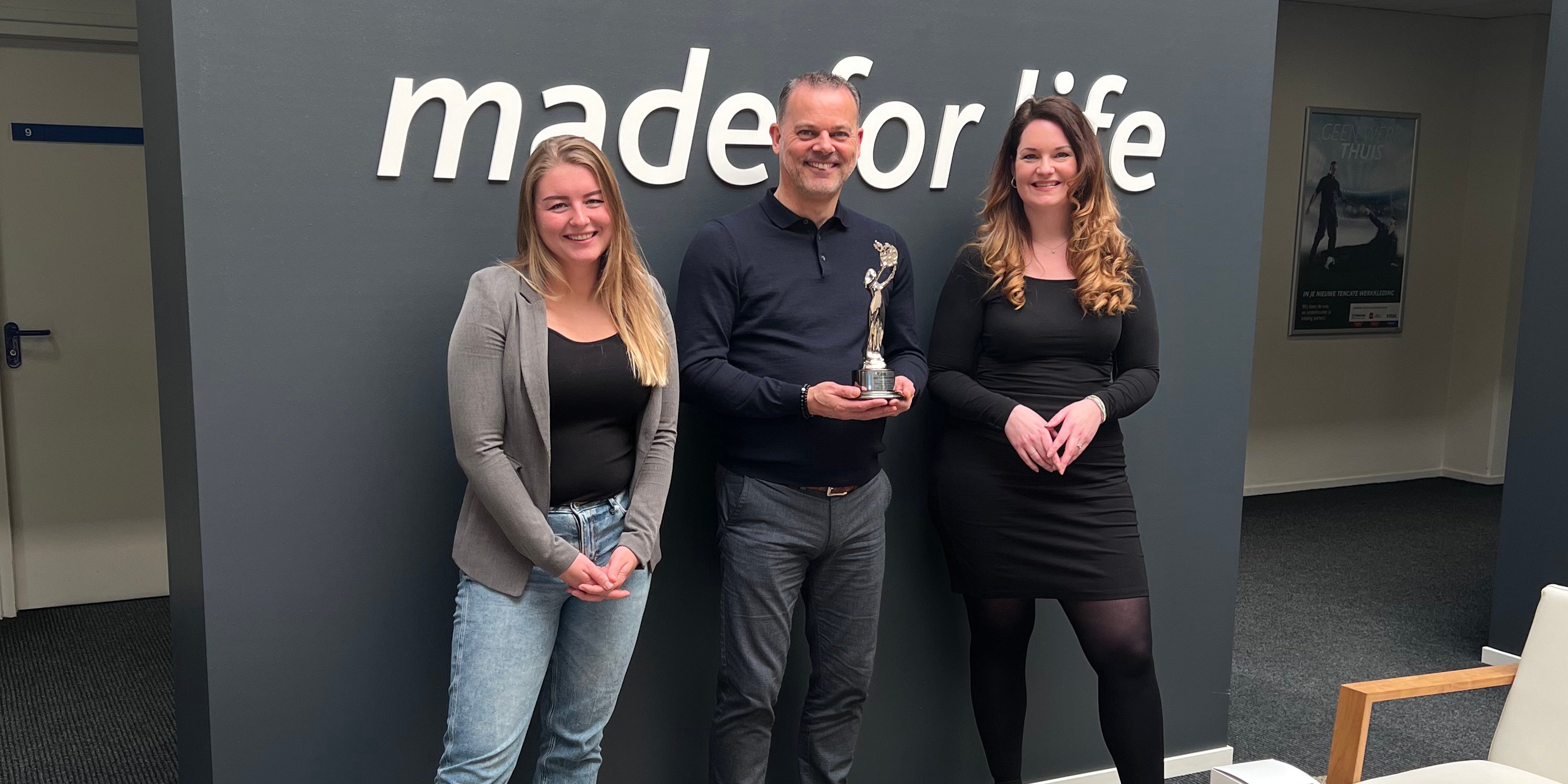 Marcel Willems, VP of Global Industrial Safety together with Marieke Hinrichs, Digital Marketer and Katrien Klein, Marketing & Communications Manager receiving the Platinum AVA Digital Awards.
The key to success: involve launching partners
Together with our agency, we developed an end-user-centric creative concept and virtual launch platform where Health & Safety Managers across multiple industries could see for themselves what makes Tecapro® Ecogreen so special. We've created an interactive online experience to guide them through Tecapro® Ecogreen, including unique expert talks from end users, industrial laundries, garment manufacturers and other partners in the value chain. The involvement and collaboration within our supply chain to be part of launching this product is something that has rarely been seen around a manufacturer of semi-finished goods.
The result: significantly shorter time to market
The virtual launch has been received very well by end users and other parties in our value chain. We've received a lot of positive feedback and the best result of this virtual launch concept is that it has enabled us to shorten our time to market to around 1 to 1.5 years. Collaborating with launching partners as early adopters allowed us to have the first orders running whilst launching the new innovation to the world. Due to this go-to-market strategy, end users can benefit from this fabric much sooner than ever.
Visit our virtual launch platform here
The best is yet to come
Getting this first 'Oscar' for our product launch and digital communications strategy is a great recognition by the digital society for the hard work we've put in together with all our launching partners! This award definitely gives us a boost to further develop our digital communication and product strategies in the near future!