Innovations over the last several years have pushed the limits of protective workwear comfort to a whole new level—and now we're stretching them even further. Introducing Tecasafe® 360+, an inherent FR fabric that moves with you with stretch. We are thrilled to bring this incredible product to market, and with it, a new range of possibilities for how FR workwear can look, feel, and perform. Let's dive into all the ways Tecasafe® 360+ will benefit your workers and your safety strategy.
All stretch, no sag
The blend of inherent flame-resistant fibres in Tecasafe® 360+ gives you everything you love about Tecasafe® with the built-in stretch technology of XLANCE®, offering stretch with incredible recovery. With a stretch percentage of 15% and close to 99% recovery, Tecasafe® 360+ will stand up to wear after wear and wash after wash, returning to its original shape without sagging or bagging.
Unlike stretch fabrics that use Lycra, Tecasafe® 360+ is specifically crafted to withstand high-temp industrial laundering and retain shape through many washing cycles. Ill-fitting, saggy FR garments are not only uncomfortable; they can also heighten risks for workers by hindering their natural movements, which distracts them from their work or discourages correct wear. The excellent shape recovery of Tecasafe® 360+ keeps workers safer with a proper fit that doesn't sag.
Better protection
Adding stretch to protective workwear is a step forward for worker safety. How? We've written before about how comfort and safety go hand in hand. You're only as safe as you are comfortable. When the way you wear your protective gear can mean the difference between a minor injury and a major incident, feeling comfortable in your PPE workwear as it is meant to be worn is paramount.
Stretch allows workers to have more fitted garments that move with them instead of the other way around. The movement of the last decade toward more comfortable workwear continues with the innovation of stretch, offering the same protective qualities with enhanced wearability. And when protective workwear is more wearable, it's more protective.
Modern shapes
Adding stretch to FR fabric opens a huge range of possibilities for how FR garments can be designed and constructed, blurring the lines between workwear and casual wear. The FR market is catching up to the mainstream fashion world in creating workwear that is closer to the look and feel of athleisure wear than ever.
Ten years ago, the gap in comfort between PPE workwear and non-FR clothing may as well have been the Grand Canyon. At TenCate Protective Fabrics, we have been proud to be a part of closing that gap, creating ever lighter fabrics with moisture-wicking abilities without denigrating protective qualities. Stretch FR fabrics will only further catalyze the move toward workwear that looks and feels more like casual wear.
And when you look good, you tend to feel good. FR garments made with Tecasafe® 360+ can fit more like your non-FR garments, looking less like boxy, shapeless, industrial uniforms and more like fashion-forward athleisure wear you'll love to put on.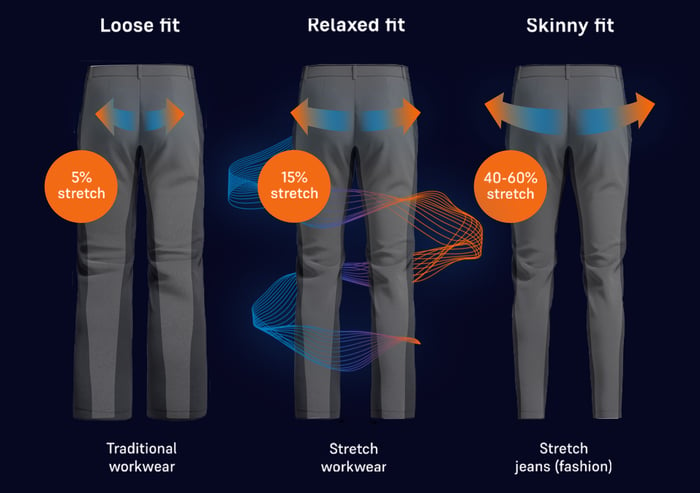 With the Tecasafe® 360+ stretch fabric, you can create FR garments with relaxed fit.
Protection built to last
When it comes to performance and durability testing, Tecasafe® 360+ passes with flying colours. Rated for ISO 15797 and multi-norm protection, it will last through rigorous washing, holding colour, performance, and protective features. The extra mechanical properties provided by built-in Gridstrong technology ensure you maximize the lifespan of your garments when you choose Tecasafe® 360+. And investing in a more durable product that needs less maintenance will often save money for your safety program in the long run.
Get the perfect fit
Get in touch with our protective fabric experts to learn more about Tecasafe® 360+ and how stretch fabric can take your safety program to the next level. Or enter your info below to get access to our interactive online launch portal, where you can experience unique content from our global launching partners, see the fabric in action, and get inspired by modern garment designs.