Being sustainable starts with becoming more sensible to decreasing your personal environmental impact. In today's world, not incorporating sustainability in the process of creating workwear is almost unimaginable. We are happy to see that more and more companies start considering the total footprint of a product - from raw material all the way to the (recycled) end product - when selecting workwear. How does this apply to select workwear?
Which parties are involved in the value chain?
If you want to better understand sustainability in workwear, it is crucial to understand which parties are involved in the entire process from fabric to finalized garment.

First of all, fabric manufacturers (such as TenCate Protective Fabrics) play an important role in helping you select the right fabric, based on the safety, comfort and uniformity standards of your company. Secondly, a garment manufacturer is responsible for the design and manufacturing of the desired clothing. Thirdly, agreements with industrial laundries will make sure that your garments are taken care of in terms of washing and repairing, to make sure that they will live up to their expected lifespan.

Looking at all these different parties being involved in the creation of workwear for your company, it is safe to say that there are numerous questions that can be asked when it comes to sustainability:
Understand the sourcing process: what fibres are used? Where do they come from, how and where is it made?
Select the right fabrics: which fabrics are considered sustainable? Which aren't? How will I be able to choose fabrics that are made with recycled polyester instead of virgin polyester?
Understand the production process: can sustainable adjustments be made in the pre-treatment, dying or finishing process of the fabric?
Understand the lifecycle of workwear: what is the lifespan in wear and wash and what chemicals are used during washings? Where is the 'ecological breaking point' of garments, where renewing the entire garment becomes favorable over washing or repairing it?
Understand the product lifecycle: how can I analyze the whole product lifecycle via the Life-Cycle-Analysis (LCA) principle?
Determine if recycling is possible: how can I evaluate whether recycling of garments is possible to contribute to a circular economy?
Being able to trace the origin of all materials during the process of creating workwear and understand their full environmental impact, from production to logistics, has become so important to end users that these are often used as selection criteria.
Sustainability: Our shared responsibility
As you can see, there are many interacting elements that determine whether workwear is created and treated in a sustainable manner or not. At TenCate Protective Fabrics, sustainability is at the heart of what we do. Besides legal compliance, we have set social criteria based on the conventions of the International Labour Organization (ILO) and have implemented environmental requirements based on legislation and common known standards. We ask our suppliers to support us in our Corporate Social Responsibility program and to work according its related standards.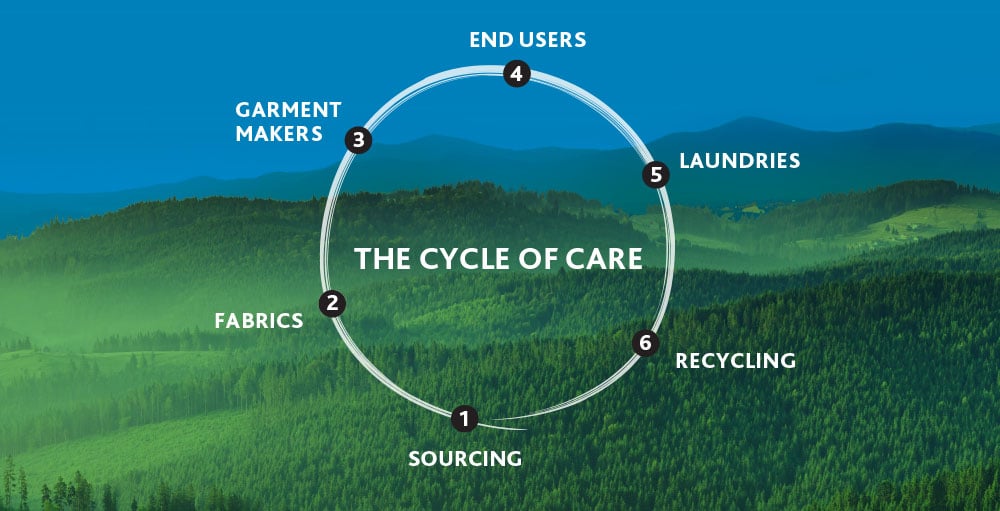 We visualize our way of thinking in the 'Cycle of Care', the life-cycle of sustainable workwear solutions. We believe that this 'Cycle of Care' is an approach to sustainability in fabrics that can greatly benefit the protective clothing value chain - and therefore our planet.

Our advice when selecting workwear: let all parties that are involved in your tender process know what your wants and needs are, and do not hesitate to ask questions to better understand sustainability in the world of fabrics. Together, we are responsible for taken care of our planet.

Our advice when developing workwear: make sure you know what your customers' sustainability needs are and what materials you can use to increase the durability of the product.

If you want to learn how you can activate your role in the ´Cycle of care´, ask our experts for advice. Schedule here an appointment with one of our advisors to get an objective and customized advice in order to lower your ecological footprint.