Pre-treatment of raw cloth
The surface of the raw fabric is smoothed, then the cloth is washed and bleached in preparation for dyeing.

Dyeing
The fabric is given a new colour in a dye bath, a process which can take up to 24 hours depending on the fibre type. Dyeing inherent FR fibres such as modacrylics and aramids, for instance, is much more time-intensive than cotton or polyester. Afterwards, the fabric receives a fixing treatment to guarantee superior colourfastness.
FR treatment
The fabric is treated with a finish that makes it flame-retardant, protecting workers from heat stress and flame-related work hazards. (This step is for our FR-treated products. Inherent FR fabrics get their flame-retardancy from their fibres, not an FR finish.)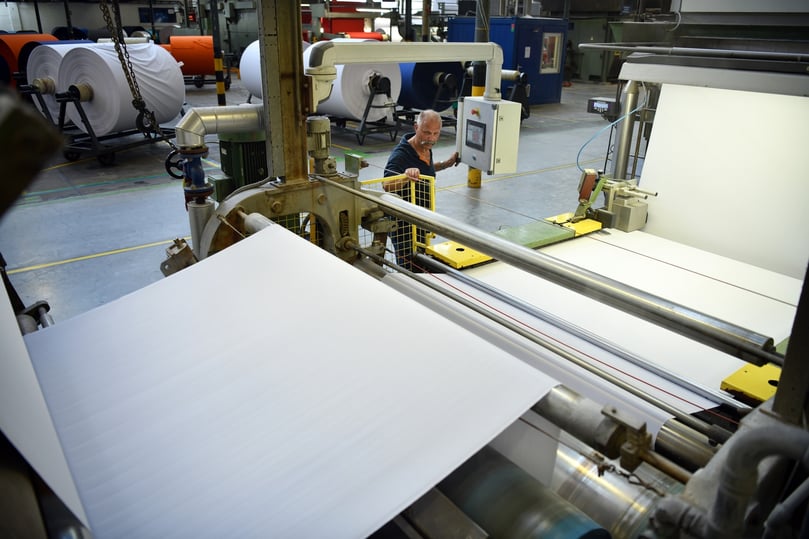 Finishing
A variety of additional finishes can be applied to provide crease-resistance or give the fabric water-, chemical- or oil-repellent properties. This is followed by a treatment helping the finish to adhere even better to the fibres.
Sanforising
The fabric is treated to prevent it from shrinking during industrial laundering at high temperatures. Consistent fit is very important when it comes to protective clothing!
Inspecting & Packaging
In this final step, every single meter of fabric is inspected for errors and colour inconsistencies, then cut into perfectly homogenous rolls — ready to be stitched into high-performing protective workwear garments.
The world behind the price tag
Cutting corners on safety is never a good idea: you get the safety, quality and performance that you pay for. As you've seen above, we produce our products with the utmost care at TenCate Protective Fabrics. There are many different elements driving costs in each stage of the process, not to mention the fact that it takes between 3 to 6 months to produce our fabrics from start to finish. At each step, we're proud to meet high standards of external certification, along with the demands of our own strict quality control. All of this is expressed in the price tag you see on our products.
Don't let protective clothing pricing remain a mystery for you! We have the broadest FR portfolio in the market: a wide range of both FR-treated and inherent FR fabrics at all price levels. Our Proclaud® audit is designed to give you exactly the data you need to choose the best solution for your budget, technical specifications, and wearer preferences.