As we reach World Homeless Day, it is a harsh truth we still have high volumes of people experiencing homelessness and displacement around the world. From the current situation to Ukraine, to the ongoing reality of the refugee camps in Calais, more people than ever require warm and safe clothing to survive. The Sheltersuit Foundation is an initiative which seeks to provide warmth, comfort and dignity for all homeless people. At TenCate Protective Fabrics, we are proud to be partnering with Sheltersuit to help them reach their goals and to platform the vital work they are doing.
About the Sheltersuit Foundation and its flagship product
The Sheltersuit Foundation was launched in 2014 by Bas Timmer. While undertaking fashion studies, Bas was shaken by news that a friend's father had passed due to hypothermia induced by homelessness. This event spurred Bas to action: he set about creating a jacket which could double up and transform into a sleeping bag. This would be the first prototype of the Sheltersuit: a suit that could support and adapt to people sleeping rough across different climates and locations.
"I decided I could use my skills better if they were redirected to help people who need warmth and shelter the most." - Bas Timmer
How the Sheltersuit works
The Sheltersuit is a wind and waterproof jacket which comes with the option to attach a sleeping bag. It is partially made from fabric donated by TenCate Protective Fabrics to improve its comfort and flexibility, alongside upcycled sleeping bags. The suit features a hood, integrated scarf and large pockets. The bottom of the suit is fixed with velcro, which makes it easy to remove — a feature which came about following feedback that in some settings — e.g. environments where a fire may break out — the suit would need to be easily removable. In its production, the Sheltersuit is handled with the same commitment to quality as a fashion item — manufactured to the same standards as any item you'd buy in a store.
The Sheltersuit in action
Eight years after Bas first set about creating the Sheltersuit, over 20,000 suits have been manufactured and delivered to 30 countries. In addition, the foundation has created employment opportunities for over 100 people, all of whom have lived experience of homelessness. Each suit costs 300 euros to manufacture, using quality materials that are designed to make the suit last — in the longer term, leading to less waste than purchasing 300 sleeping bags. The feedback from individuals making use of the Sheltersuits has been the most important thing, as they've remarked that they've felt seen and respected. While the ultimate hope of The Sheltersuit Foundation is a world where the suit is no longer needed, they continue to develop and improve the suit according to the needs of wearers, always striving for greater warmth, comfort and safety.
"The Shelterbag can mean the difference between I slept ok last night, and I can make it to the next day." – Chelsea, Resource Navigator at St. Francis Cente Los Angeles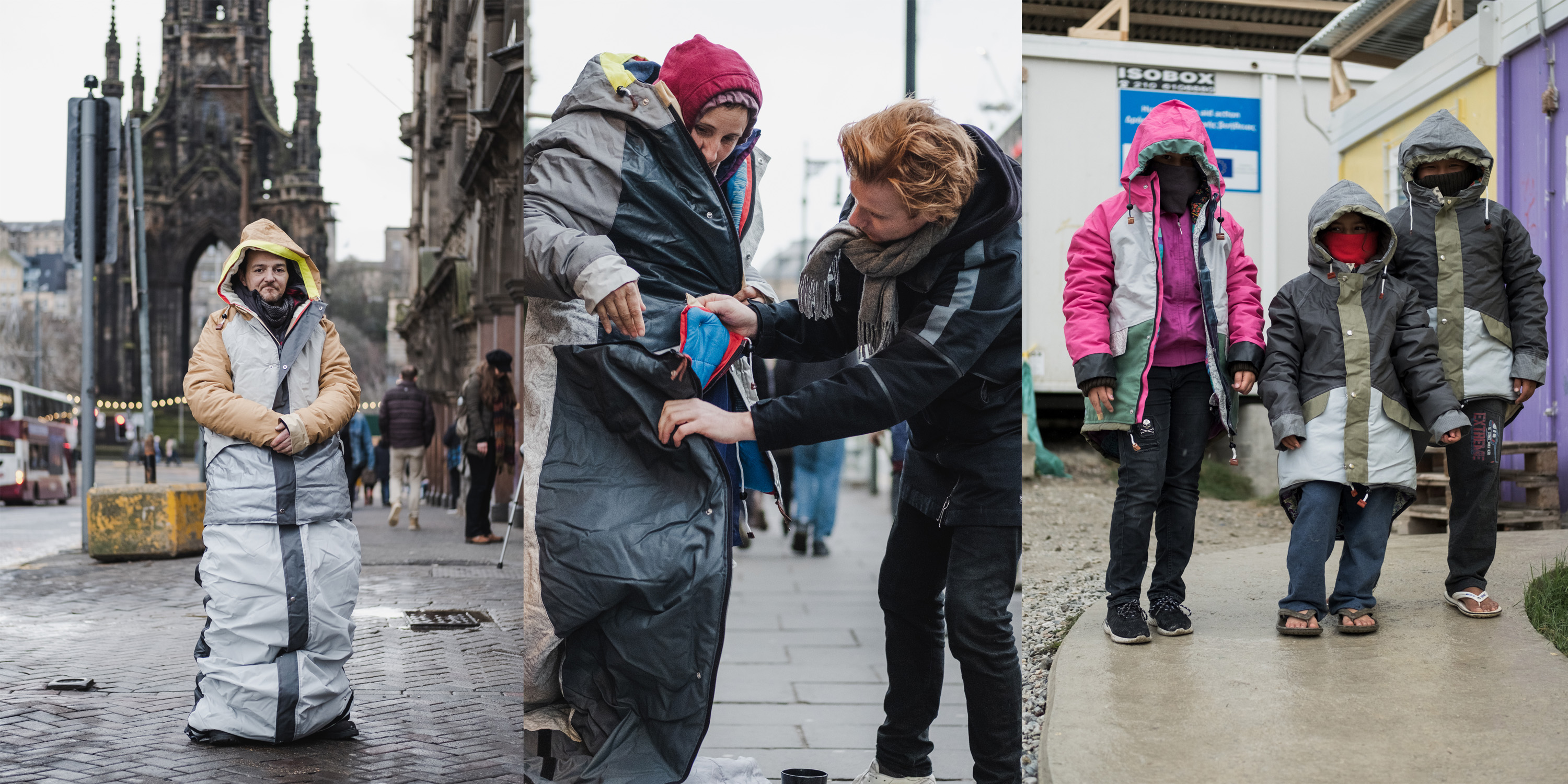 ShelterSuit wearers on the streets of UK and Lesbos, 2020 (Photo credits Tony Dočekal)
Going forward
Together, we can do more to support people experiencing homelessness and displacement. Sheltersuit has a goal to provide 5000 suits for people in need this winter throughout Europe. If you can, why not consider donating towards the production costs of the suit — visit Sheltersuit's website for more information.