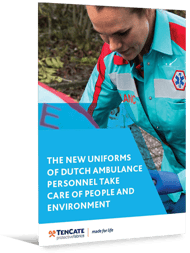 Case Study
The Dutch ambulance case
The Dutch "Star of Life", the iconic symbol
for emergency medical services will soon
be accompanied by the colours turquoise,
grey and "a touch of red". In the upcoming
months, 5500 professionals from 22
regions in the Netherlands will lay hands
on their brand new ambulance uniforms.
The new workwear radiates flexibility, care
and accessibility, as well as power, speed
and authority. The story behind the new
garment reveals an impressive collaboration
between end user, distributor, designer,
manufacturer and fabric supplier. Although
each partner in the workwear value chain
fulfilled a unique role, the success of the
project can be found in their shared set of
beliefs: to never compromise on durability,
safety and wearing comfort.
''the result is a distinctive, good-looking costume, which is also responsible in terms of sustainability and the human aspect. The new model is striking: people will know when an ambulance worker arrives on the scene!"- Jan de Waard, representative of facility managers
Download the case study by filling in the form: