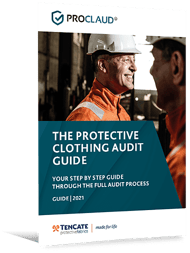 The protective clothing audit guide: Your step by step guide through the full audit process
For many Health & Safety Managers, it is a struggle to effectively analyse their current protective clothing situation and to identify the right protective clothing solution for their colleagues. A Protective Clothing Audit can help you overcome this struggle. By reading this step by step guide, we will take you through the full audit process. What you are going to learn is:
Why

conducting a Protective Clothing Audit is important if you want to have clear insight into differences between your current and desired situation for the wearers;
What

our Protective Clothing Audit service Proclaud® looks like in practice;
How

the Protective Clothing Audit, Proclaud

®

helps you to simplify a future route of your new protective workwear and improve your safety culture
This Protective Clothing Audit Guide helps you through the process of identifying the desired protective clothing solution for your users.
Get your copy today, by filling in the form: