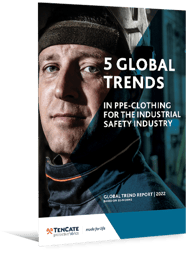 Trend report
Optimize your protective workwear
Boost your knowledge with these 6 important workwear trends.
As a Health & Safety professional, you play a crucial and yet powerful role when it comes to developing a high-quality safety culture and protecting professionals. Being informed about the latest trends when it comes to protective clothing will benefit your safety culture developments. Peter van Barneveld, Product Manager Industrial Safety, brings you up to date with these 6 industry trends. This whitepaper contains the newest:
Fibers & fabrics trends
Garment trends
Discover how you can apply the learnings of these trends to boost your safety culture.
Download the trendreport by filling in the form: