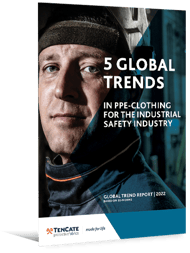 Trend report
5 Global Trends in PPE-Clothing for the Industrial Safety Industry
With this trend report, you'll learn
How to boost a strong safety culture

A new approach to the PPE-clothing selection process

How to incorporate fashion and fit into your garments

Why sustainability is a priority

Fibers & fabrics trends
Garment trends
As a Health & Safety professional,
you play a crucial role when it comes
to developing a high-quality safety
culture and protecting your professionals.
Being up-to-speed with the most
important trends in the protective
clothing industry is necessary to
meet the needs of your employees
and to stand out from your competition.
Don't miss out on the latest
exciting opportunities when it comes
to selecting your future protective
workwear and download this brand-new Trend report of 5 Global Trends in PPE-Clothing for the Industrial Safety Industry.
Download the EU Safety Trends Report by filling out this form: