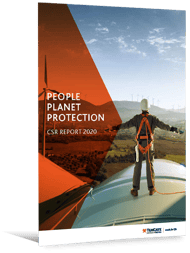 CSR Report
Download here our CSR report 2020
The world around us is developing at a rapid pace, and these changes have an immense impact on how we operate our business. Developing our company in this context requires a good understanding of the environment in which we operate and how it in turn affects us and our stakeholders.
That's why we continuously assess external factors in the world around us – to create an ambitious, transparent and sustainable strategy that not only contributes to our own future growth, but also one in which our customers and partners are instrumental in creating better solutions.
"We are not only there to
empower end users to feel
safe, comfortable and
confident in what they do.
Made for Life also entails our
responsibility to care for the
planet and ensure a higher
quality of life for all of us."

Maria Gallahue-Worl
Chief Executive Officer at TenCate
Protective Fabrics
By publishing this report we seek to inform our stakeholders on our organisation and on the value TenCate Protective Fabrics is creating over the long term.
Fill in the form to download our CSR report 2020: